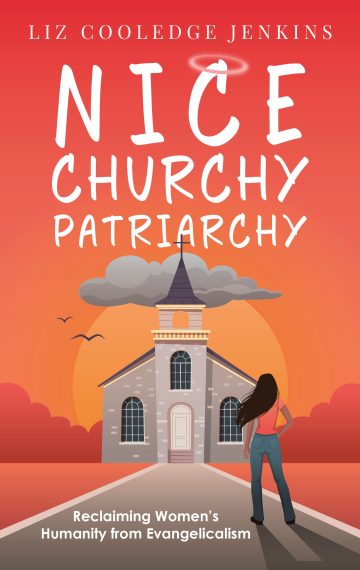 Publisher:

Apocryphile Press

Available in:

Paperback, kindle, epub

ISBN:

978-1-958061-40-4

Available:

December 1, 2023
Pre-order kindle edition from Amazon
Pre-order paperback from Amazon
Pre-order paperback from Barnes & Noble
Even in the warmest and most welcoming evangelical churches, patriarchy looms as an ever-present force, suppressing women's possibilities and debilitating whole communities. Well-intentioned churchgoers and church leaders have bought into deeply-entrenched male-dominated mindsets, power structures, and theologies that are not working—not for women, and really not for anyone.
Part memoir and part faith-based feminist manifesto, Nice Churchy Patriarchy takes an unflinching look at the ways misogyny's subtler forms impact every aspect of women's experiences in church. From leading a church college ministry, to attending seminary, to eventually developing the confidence to preach, Liz Cooledge Jenkins weaves together her own journey with reflections on biblical interpretation, church history, and intersectional feminism. 
After confronting misogyny's faces head-on, Liz goes on to explore how we can build better faith communities together. For all who long to see women's gifts greeted in churches with gratitude rather than a suspicious side eye, Nice Churchy Patriarchy points the way.
LIZ COOLEDGE JENKINS is a writer, preacher, and former college campus minister who lives in the Seattle area with her husband Ken and their black cat Athena. She has a BS in Symbolic Systems (Stanford University) and a Master of Divinity degree. Her writing has appeared in Sojourners, Christians for Social Action, Feminism and Religion, and Red Letter Christians. She can be found at lizcooledgejenkins.com (blog), and @lizcoolj and @postevangelicalprayers (Instagram). When not writing, Liz enjoys swimming, hiking, attempting to grow vegetables, and drinking a lot of tea.
RELEASE DATE: DECEMBER 1, 2023 / PRE-ORDER NOW!