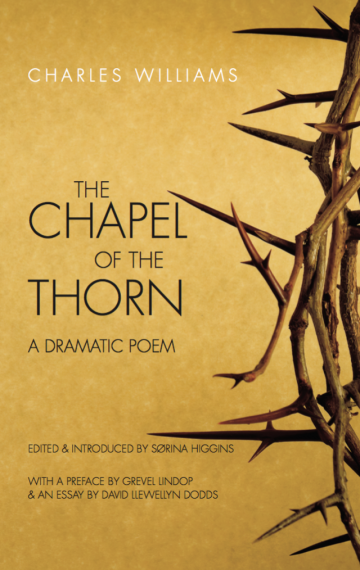 Publisher:

Apocryphile Press

Available in:

Paperback, kindle, epub

ISBN:

9781940671536
buy paperback on amazon
buy paperback on barnesandnoble.com
buy ebook on amazon.com
buy ebook on barnesandnoble.com
buy ebook on kobo.com
buy ebook on iTunes
The Chapel of the Thorn is a two-act verse drama in which Christians and pagans contend for control of the Crown of Thorns. Its themes of spiritual tension, sacred vs. secular power, and religious war are as powerful now as they were when Williams wrote this play just over one hundred years ago. It is here published for the first time.
"In her long, admirably informative introduction, Sørina Higgins tells the story of the discovery of the manuscript of Charles Williams's first attempt at poetic drama—long thought to have been lost. One of his earliest works, it nonetheless can be seen to contain some of the major themes and preoccupations—theological, artistic, psychological—that were to characterise Williams' work for the rest of his life. That is why, for all is flaws, it is worthy of publication and we are greatly in Sørina Higgins's debt for rescuing it from obscurity. Furthermore, it will not only increase our knowledge of Charles Williams, it will add colour to the picture of the history of poetic drama in English." —Brian Horne, Chairman & Librarian of the Charles Williams Society.
"This previously unpublished early verse drama will be of interest for Williams scholars, particularly with regard to the development of his poetic style and his theological views." —Holly Ordway, Director, MA in Cultural Apologetics, Houston Baptist University
"Hitherto unpublished, The Chapel of the Thorn clearly dramatizes the ideas and competing religious sympathies that shaped Charles Williams' early writings and, in some cases, became permanent features of his authorship. Sørina Higgins is to be commended both for bringing this important work into the public sphere and for doing so with painstaking scholarship. This will prove an invaluable addition to the Williams corpus." —Stephen Dunning, author of The Crisis and the Quest: A Kierkegaardian Reading of Charles Williams
Charles Walter Stansby Williams (1886-1945) was a British poet, novelist, editor at Oxford University Press, Anglican Christian, occult master, and member of the Inklings with C. S. Lewis and J. R. R. Tolkien.
Sørina Higgins (www.sorinahiggins.com) writes the blog The Oddest Inkling, devoted to a systematic study of Charles Williams's works.